TMS was originally founded in 1990 as a fundraising arm of Sydney Heritage Fleet (SHF)

Donations through TMS are directed to a specific project/s each year so when donors provide financial support they know where their money will be spent

We are delighted to advise that the 2020/2021 TMS project is the:
​WARATAH BOILER FIRE TUBE REMOVAL & REPLACEMENT
​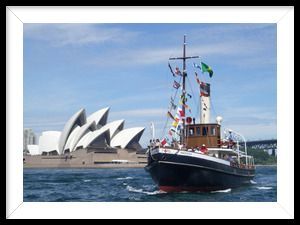 The fleet's wonderful 1902 built steam tug Waratah is currently undergoing the removal and replacement of her boiler fire tubes — her plain tubes were replaced 30 years ago. Following the Fleet's Engineering Team being consulted in March 2020, the decision was made to remove and replace all Waratah's fire tubes. The aim is to give her boiler more than another thirty (30) years of operational life. The estimated cost to complete this project is around $70,000 which is made up of:
New Boiler Tubes 15,000

Labour $49,000

Consumables $6,000
Due to the "COVID-19" environment that we all now live and operate in, many additional safety plans and work permits were required before work could commence:
A Covid-19 Safety Plan and Safe Work Method Statement were prepared for the work to be done

Implemented all the control measures required to complete the tasks safely

Confined Space Permit completed daily and a Hot Work Permit completed as required
​
These are just a few of the other tasks required before the old tubes can be removed:
Remove the furnace doors, framework, fire bars, support frames and smoke box doors

Remove the combustion chamber/furnace fire brickwork for better access to the chamber

Set up scaffolding in front of the boiler for better access to the smoke box tube plate and set up exhaust fans for appropriate ventilation required for working in the combustion chamber, boiler interior and stokehold
CLICK HERE

to view the full Project Report which includes many fabulous photos

So, you can help us fund this crucial project to get our wonderful Waratah back in steam and out on the harbour where she belongs!
ONLINE DONATIONS can be made any time by clicking this buttonand once on our secure donations page select the "Appeal Donation" button and enter

"Waratah"

in the blue box to the right.
You can also donate by:
PHONE: have your credit card ready and call us 02 9298 3888 (Tuesday–Thursday)
POST: your cheque payable to Sydney Heritage Fleet (address below)
MONTHLY: p

ledging a monthly donation by credit card helps the Fleet plan ahead
However you choose to donate, clearly indicate it is for "Waratah"
For further information please contact:
Sydney Heritage Fleet Fundraising
Phone 02 9298 3888 (Tuesday–Thursday) or email fundraiser@shf.org.au
Sydney Heritage Fleet
Wharf 7, 58 Pirrama Road
Pyrmont NSW 2009
Donations of $2.00 or more are tax-deductible. Receipts are issued following processing